Achim

33-94614-00


Price: $20,000
Color: Bay
Breed: Oldenburg
Sex: Gelding
Height: 16.1 H
Date of Birth: 6 May 2000
Breeder: Shelagh Gainey, OH
Owner: Legacy Farm Ltd.
Temperament: Very sweet
Offspring: None
Amor Reto*
HAN
90-53204-91
Atmon C. M.
HAN
ES 368
Ansturm
ES 316
Adlerfarn II
Paulette
Desiree
HAN
Denar
Windrose
Balalaika
TRAK
OSB-E-M243
Donetz
TRAK
Erzsand
Donja
Ballade II
TRAK
Kongo
Baronesse V
Esteem
HAN
90-15225-83
Enterprise
HAN
31-01969-76
Equuleus
HAN
Eindruck II
Freia
Grille
HAN
Grunspecht
Feurertaufe
Cover Girl
HAN
90-04503-73
Denar
HAN
Duft I
SPS Seebuche
Debbie Ayer
xx
Gunner Lad xx
Beno Ugramin xx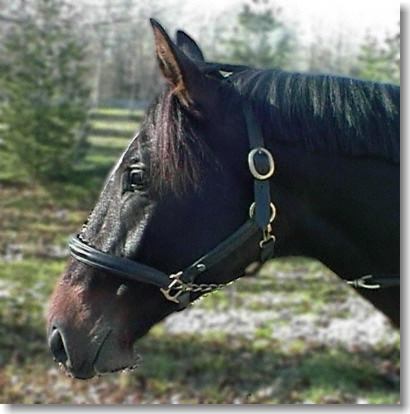 This athletic colt is by the 1996 100 Day Test Champion, Amor Reto, and out of the Hanoverian mare, Esteem. Amor Reto's pedigree includes proven performers in jumping and dressage. Esteem's pedigree contains three famous Hanoverian stallions, Ferdinand, Duellant, and Senator. Both Amor Reto's and Esteem's pedigree include the Hanoverian sire, Denar, who brings together the Duellant and Senator lines. Of Amor Reto's sons, this colt is the one whose athleticism, temperament and looks remind us the most of his dad. He also reminds us of Amor Reto's brother, Arrakid. We think he will develop to be like Amor Reto, an excellent jumper and riding horse. At the ISR/Oldenburg Foal inspection in 2000 he scored 8.0 for confirmation & type, 7.5 for movements, and 7.5 for Overall impression for an overall score of 7.5. We expect to send him to Ron Liming to be started in a couple of months. He was started last year and we have been riding him lightly this year. We will be working basic gaits and steering through this summer.
Fall 2004
In October 2004 we took him to a schooling show and he got a 2nd place in Training Level Test 4 with a 61.15%. His maturity is allowing him to make very nice progress with this training.
Winter 2005 – Spring 2006
After spending so much time with Apollo we have ramped up Achim's training. Andi has been taking Roman and Achim to clinics with Natalie Lamping. His natural athleticism has made his progress look much easier than other horses.
Summer 2006
He finally has turned the corner and is doing 2nd level work. It looks like we will take him to a show later this Summer or early Fall.