Amor Reto 90-53204-91
Color: Dark Bay
Breed: Hanoverian
Sex: Stallion
Height: 16.2 H
Date of Birth: 4/15/91
Breeder: Dr. Reto Engler, Washington DC
Owner: Legacy Farm Ltd.
Temperament: Sweet but still a stallion
Offspring: Aloe Reto, Amor Retta, Achim, Aladdin, Anakin, Ariel, Apollo, Angel, Algernon, unnamed colt

Year Licensed:1996
Video Available:Yes
Performance Test:Rancho Murieta, CA
Overall Score:133.75 (1/14)
Rideability:135.44(1/14)
Jumping:125.66(2/14)
Shipped Semen:Yes
Cooled Semen:Yes
EVA Test Date:01/1999
Result: Negative
Vaccinated: 1/2001
Stud Fee:Private Treaty
Booking Fee:$300(included)

Ansturm
HAN
732
Adlerfarn II
HAN
Adlerschild xx
SPS Anglerbad
Paulette
HAN
Poet xx
SPS Jagdflocke
Desiree
HAN
31-01493-71
Denar
HAN
Duft I
SPS Seebuche
Windrose
HAN
Weiler
Donnerlied
Balalaika
TRAK
OSB-E-M243
Donetz
TRAK
Erzsand
TRAK
Plugsand
Ezars
Donja
TRAK
Pregel
Donaulied
Ballade II
TRAK
4343
Kongo
TRAK
Komet
Herbstlicht
Baronesse V
TRAK
O Bajan XIII
Kemir
In the Beginning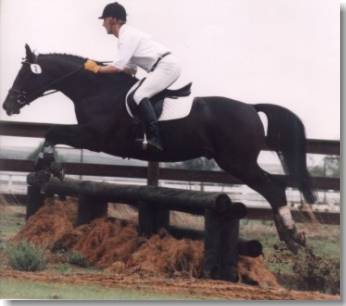 Fritz Floto descended out of a family of horse breeders from Mecklenburg, Germany. He immigrated to Canada in 1952 and nine years later he imported the Hanoverian stallion Weimar and the main studbook mares, Fernanda and Windrose, to develop his own breeding program. Over the next couple of years he imported several stallions including Denar and Ansturm. These stallions represent significant and intriguing bloodlines. Denar was a three quarter brother to the German Champion Diplomat, and carries the bloodlines of two classic Hanoverian stallions, Duellant and Senator. Duellant was one of the dominant sires of 1960's. He produced many approved sons and many great dressage horses, such as, Dux. Dux was Dr. Klimke's mount for the 1964 and 1968 Olympic games. Senator was also one of the dominant sires of 1960's and he distinguished himself with the number of approved sons and the many great show jumpers. Ansturm has a unique bloodline carrying two improvement sires, the Thoroughbreds Adlerschild and Poet. Adlerschild has become renowned in Germany for passing on strong nerves, a big heart, and great strength. It is interesting to note that the 1998 Hanoverian stallion of the year, Weltmeyer, shares both Senator and Adlerschild in his bloodlines. According to Fritz Floto, Windrose, was his most valuable broodmare. She delivered 21 foals during her lifetime. In 1971 she delivered the mare Desiree by Denar. Several years later Desiree was bred to Ansturm and delivered Amor Reto's sire, Atmon C. M
Amor Reto #1 at the Stallion Test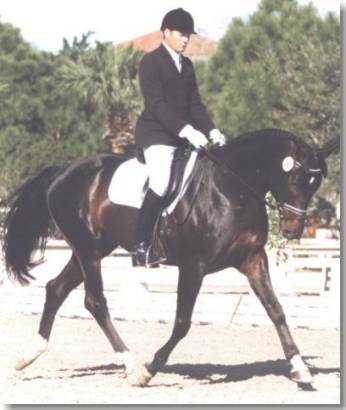 In 1991 Amor Reto was born to the imported Trakehner mare, Balaika. Balaika's grandsire, Erzsand, was Champion at the 1970 Neumünster approvals. Balaika's sire, Donetz, was imported into the United States in 1978. He competed in dressage and won several awards including both a 3rd and 4th level USDF Horse of the Year award before returning to Germany in 1980. In 1994 Amor Reto won the Young Horses under Saddle class at Devon but was rejected at the stallion inspection for the American Hanoverian Society. He was traded to Andrea Burchenal-Huber in 1995 as a riding horse. After several months of training she presented Amor Reto at the stallion inspection for the International Sporthorse Registry and they accepted him. At the 1996 100 Day Performance Test in Rancho Murieta he placed:
1

st

in Rideability with a score of 135.44
2

nd

in Jumping with a score of 125.66
1

st

Overall with a score of 133.75
Amor Reto's career was interrupted in 1997 when he was moved from Texas to Ohio. When it resumed in 1998, he started competing in dressage and had his first breeding season. Amor Reto placed 14th in the nation at Training Level in his first year of competition.
He has since been retired due to a variety of injuries.