Ariel 33-95206-01
Price: $25,000
Color: Dark Bay
Breed: Oldenburg
Sex: Mare
Height: 17.3 H
Date of Birth: 1 May 2001
Breeder: Legacy Farm Ltd., OH
Owner: Legacy Farm Ltd.
Temperament: Very sweet
Offspring: None
Atmon C. M.
HAN
ES 368
Ansturm
ES 316
Adlerfarn II
Paulette
Desiree
HAN
Denar
Windrose
Balalaika
TRAK
OSB-E-M243
Donetz
TRAK
Erzsand
Donja
Ballade II
TRAK
Kongo
Baronesse V
Bon Temps Roulez*
OLD
33-10351-90
Bonjour*
SF
33-04572-76
Bibelot
x
Galopin VI xx
Quintefeuille
Godwin
x
Starter x
Balaika x
Walküre
HAN
31-31024-82
Washington
HAN
Wendekreis
Havaria
Lolita
HAN
Lombard
Ornat
This filly is is by the 1996 100 Day Test Champion, Amor Reto, and out of the premium ISR mare, Bon Temp Roulez. The sire of his dam, Bonjour, has sired multiple USDF Horse of Year horses. Her dam's dam, Walküre, competed in dressage at Prix St. George. This very attractive filly scored 7.8 at the foal inspection.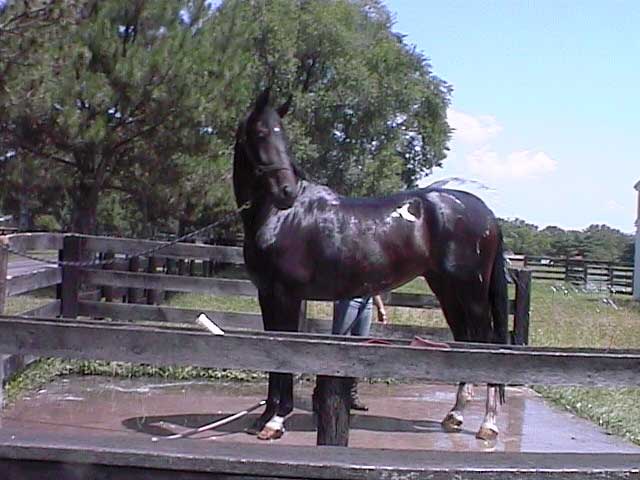 This long legged, beauty is over 17 hands. We think she has topped out but she will continue to fill out in the chest. She is very impressive.
2005 Highlights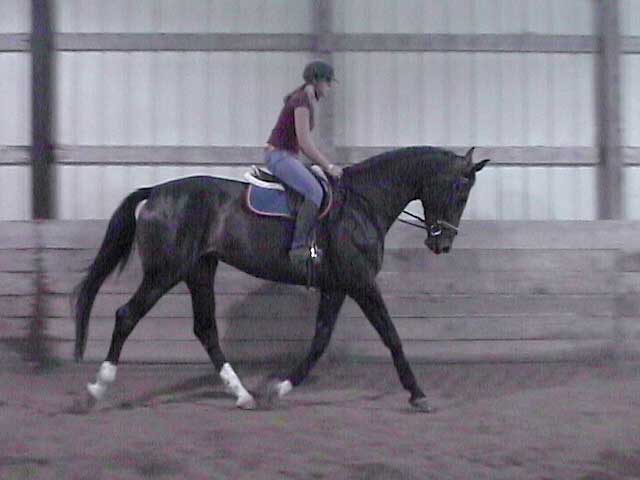 In 2005 we sent her to favorite trainer we use to start horses. Since she has returned from the trainer, we have been working on basic training and occasionally jumping her. Recently we sent her over to a local jumping trainer, Wilhem Genn,for a little jumping training and for him to evaluate her. She is still very green but willing.
Summer 2006
The more time she gets under saddle the cuter she looks. Despite her size she rides pretty small. We jumped her recently and she was very willing. With her size she is not sure whether she wants to trot over the jump or actually jump it.
Her full brother, Apollo, had an excellent year. Apollo qualified for the 4 Year Old Young Horse Championships in Dressage.
Fall/Winter 2006
We have teamed up with Matt Payne to jump our horses once a week and help us market them to the Hunter/Jumper market. She is doing a great job at jumping. She has been very willing and honest.