Aladdin 33-94613-00

Color: Dark Bay
Breed: Oldenburg
Sex: Gelding
Height: 17.1 H
Date of Birth: 13 March 2000
Breeder: Legacy Farm Ltd., OH
Owner: Legacy Farm Ltd.
Temperament: Sensitive, but responds well to direction
Offspring: None

Atmon C. M.
HAN
ES 368
Ansturm
ES 316
Adlerfarn II
Paulette
Desiree
HAN
Denar
Windrose
Balalaika
TRAK
OSB-E-M243
Donetz
TRAK
Erzsand
Donja
Ballade II
TRAK
Kongo
Baronesse V
Bon Temps Roulez*
OLD
33-10351-90
Bonjour*
SF
33-04572-76
Bibelot
x
Galopin VI xx
Quintefeuille
Godwin
x
Starter x
Balaika x
Walküre
HAN
31-31024-82
Washington
HAN
Wendekreis
Havaria
Lolita
HAN
Lombard
Ornat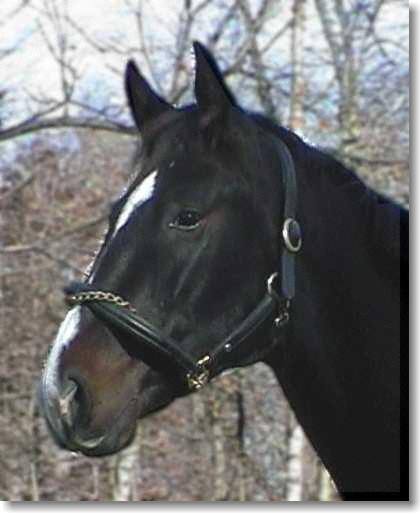 This gelding is by the 1996 100 Day Test Champion, Amor Reto, and out of the premium ISR mare, Bon Temp Roulez. According to the USDF 2000 Stallion Stats, Bonjour, has sired five USDF Horse of Year horses. His dam's dam, Walküre, competed in dressage at Prix St. George. He is probably the flashiest of our three colts and may mature over 17 hands. He is more sensitive than Achim or Anakin but responds well to direction. He was started last year and we have been riding him lightly this year. We will be working basic gaits and steering through this summer.
Fall 2004 Highlights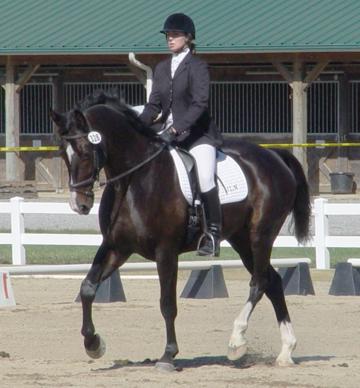 Aladdin at Schooling show, September 2004
In 2004 we took Aladdin to a schooling show. In Training Level Test 3 he got a 3rd place with a score of 60.42%.
Aladdin is put down
Aladdin had a minor arthroscopic surgery down at Rood and Riddle to remove some OCD bone chips. Although the operation was a success an infection got in the wound. The infection was resistant to the antibiotics the veterinarian was administering. When the infection spread to joints, we made the decision to put him down. He was a really nice guy!