Anakin 33-94615-00
Price: Sold

Color: Dark Bay
Breed: Oldenburg
Sex: Gelding
Height: 17.0 H
Date of Birth: 17 April 2000
Breeder: Legacy Farm Ltd., OH
Owner: Legacy Farm Ltd.
Temperament: Very sensible
Offspring: None

Atmon C. M.
HAN
ES 368
Ansturm
ES 316
Adlerfarn II
Paulette
Desiree
HAN
Denar
Windrose
Balalaika
TRAK
OSB-E-M243
Donetz
TRAK
Erzsand
Donja
Ballade II
TRAK
Kongo
Baronesse V
Walküre
HAN
31-31024-82
Washington
HAN
31-32136-77
Wendekreis
HAN
Ferdinand
Domgoettin
Havaria
HAN
Hassan
Fanni
Lolita
HAN
31-43106-75
Lombard
HAN
Lugano II
Landsiegel
Ornat
HAN
Obermaat
Goldenherrin
This fabulous colt is by the 1996 100 Day Test Champion, Amor Reto, and out of the imported Hanoverian mare, Walküre. Walküre competed through PSG and has consistently produced outstanding foals. At the ISR/Oldenburg Foal inspection in 2000 he scored 8.0 for confirmation & type, 7.5 for movements, and 8.0 for Overall impression for an overall score of 8.0. Of the three boys he is the most sensible. He was started last year and we have been riding him lightly this year. We are working toward showing him at a schooling show this fall.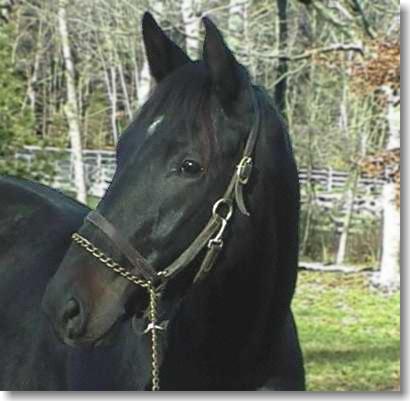 In 2004 he went to his first dressage schooling show and did well, 60.385% in Training Level Test 4. Probably his best characteristic is his willingness to work.