Whimsy 84.0025
Price: Sold
Color: Gray
Breed: Dutch
Sex: Gelding
Height: 16.0 H>
Date of Birth: 4/08/2003
Breeder: Legacy Farm Ltd.
Owner: Legacy Farm Ltd.
Temperament: Very people oriented for such a young foal
Offspring: None
Cocktail
WPN
84.4191
Purioso
WPN
Furioso
II
Alinda
Ulissa
WPN
Le Val
Blanc xx
Paula
Dudaula
WPN
85.4197
Amor
WPN
Herrscher
Barba
Udaula
WPN
Doruto
Ladaula
Hearsay
WPN
89.10101
Roemer
WEST
1741
Pilatus
WEST
Perseus
*Duela
Cronella
WEST
Cyrano
Flocke
Drums Fancy
xx
War Drums
xx
?
?
Verna
xx
Mister
Gus
?
This colt is by the Dutch stallion, Hierarch. Hierarch who has already established himself as a leading producer of dressage horses in Holland is now in the United States. In between his breeding duties he is being shown by a young rider at Prix St. Georges. Hierarch's sire, *bleep*tail, was the top producer of dressage horses for the Dutch for 2002.
 
Breeding and Yearling Info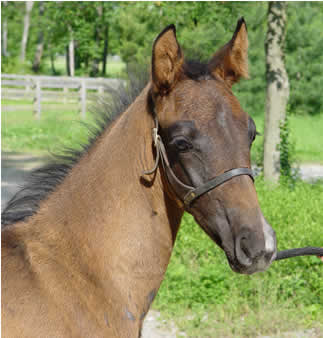 The mare is by the great Dutch stallion Roemer. Roemer's sire, Pilatus, is the sire of two great Westphalian jumping stallions, Polydor and Pilot. Roemer started his career as a jumper but became the leading producer of USDF Horse of Year dressage horses in the United States. Iron Spring Farm still keeps a brochure on him.
Fall 2006
He is off to be started with Ron Liming. We expect him back in a month or two. He is ready to do some work.
Winter 2006-2007
Whimsy is progressing nicely. Andi thinks he has grown another inch. He is a hotter horse than his buddy, Concerto.
Spring 2007
Whimsy is back from Ron Liming and has been integrated into our training program. Andi and Matt think he could be a cute hunter/jumper. I think he will be a nice dressage horse. He has nice gaits.