Ursula 01.210257
Price: Sold
Color: Chestnut
Breed: WPN
Sex: Mare
Height: 16.1 H
Date of Birth: 6/18/2001
Breeder: Shelagh Gainey, Loveland OH
Owner: Legacy Farm Ltd.
Temperament: Very sensible
Offspring: None

Jetset-D
WPN
91.6518

Zirkoon
WPN
81.6009
Nuprimus
WPN
Pinturischio xx
Dulderform
S. Waldfree
WPN
Waidmannshiel
Freia
Escansan
WPN
86.3721
Le Mexico
WPN
Mexico
Pèche Melba
Sussan
WPN
Amor
Hetty
Hillechen
WPN
89.1705
Purioso
WPN
244
Furioso II
WPN
Furioso xx
Dame de Ranville
Alinda
OLD
Martell
Alice V. Buer
Arsis
WPN
82.5656
Nimmerdor
WPN
Farn
Ramonaa
Rosamunde
WPN
Acer xx
Alabama
This filly was bred in Holland and born in the United States. Her pedigree includes some very Dutch prominent jumping horses, Furioso II, Nimmerdor and Le Mexico. Her sire, Jetset-D, appears to be an all-arounder with a breeding index of 154 for dressage and 134 for jumping. Her dam's sire, Purioso, is the sire of Olympic *bleep*tail, the top dressage breeding stallion for the Dutch. Le Mexico is the grand sire to Olympic silver medalist in dressage, Olympic Ferro. Considering her pedigree it would appear she would grow up to be an all-arounder.
We were somewhat surprised when we measured her at 16 hands. She is turned out with a group of mares who are all 16.3 hands or higher. She probably one of our more nimble and agile horses which tends to confirm our belief of her all-around ability.
2005 Highlights
We got here back from the trainer we use to start our horses earlier this year and have been working on her on relaxed and rythmetic walk, trot, and canter. She is getting easier every day.
Summer 2006 – Jillian wins with Ursula and Magic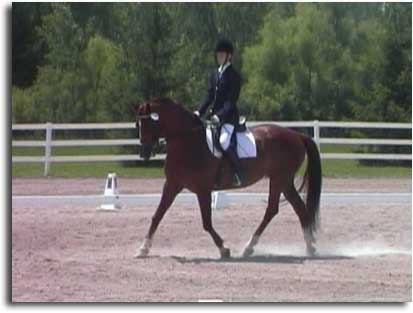 We were pleasantly surprised last month when Jillian teamed up with Magic and Ursula at a show at the University of Findlay. Jillian is a fine rider but Magic has not been in a show for several years and Ursula has never been in a show. We really did not know what to expect. Things could have gone badly but they did not.
In fact the results were outstanding! Jillian and Magic tied for the high point of the show with 69.5% score at Training Level Test 1. Andi described the test as a text book Training Level test. They also won the Training Level Test 4 class with a 64.2%. For a horse that was retired as a broodmare, this was a satifying moment. She still has the right stuff!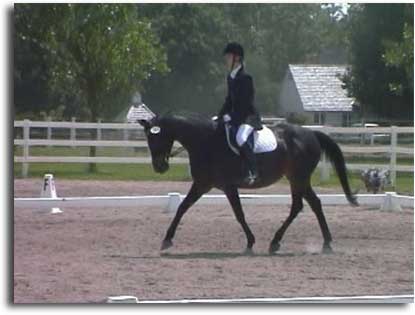 If that was not a big enough shocker, Jillian and Ursula teamed up with 62.3% in Training Level Test 1 and 62.9% in Intro Test B. Not too shabby for the maiden show.
 
Spring 2007
Jillian and Ursula are competing in the State 4H competition this Spring. Ursula is progressing nicely.